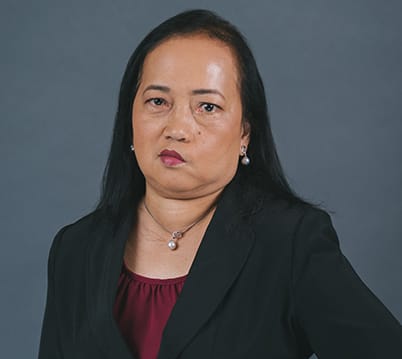 Jean Rimando
Chief Financial Officer
Phone: (808) 622-4200
Fax: (808) 622-4211
Vcard: Download
Miss Rimando joined Aloha Habilitation Services in 2006 as the Director of Finance after moving to Hawai'i from the Philippines, where she worked as a bookkeeper and accountant for Poultry Breeders Corporation and Meralco Industrial Engineering Services, respectively.
She earned her Bachelor of Science degree in Chemistry from the University of Santo Tomas, Philippines and later earned her second Bachelor of Science degree in Commerce, majoring in Accounting, from the Manuel Luis Quezon University, also in the Philippines.
When not working with numbers, Miss Rimando enjoys traveling, attending social functions, dancing, singing and listening to music, crochet, badminton and attending religious activities.